If you are one of those freaks who love running, let me take you on a short but thrilling journey through some of the most awe-inspiring moments that happened in the running world in 2022. In a year filled with ups and downs, these three inspiring runners shone brighter than the rest, displaying unbridled passion, dedication, and perseverance in their quest to achieve greatness.
From breaking world records to overcoming seemingly insurmountable odds, their performances left us breathless and gave us all a reason to believe in the power of the human spirit.
Join us as we relive these unforgettable moments and celebrate the winning spirit of these remarkable athletes. Whether you're a seasoned runner, a casual jogger, or simply someone who has recently started running and is looking for a little inspiration, these three running performances are sure to leave an indelible mark on your heart and your soul.
Witnessing History: Eliud Kipchoge Smashes Marathon World Record in Berlin 2022
It was a crisp morning in Berlin on September 25, 2022, when history was made and the world watched in awe. Eliud Kipchoge, the Kenyan long-distance runner, managed to break the marathon world record. – WATCH His time of 2 hours, 1 minute, and 9 seconds (4:37 per mile) was 30 seconds faster than his previous record set in 2018 on the same course.
The moment was pure magic. The atmosphere in Berlin was electric, with thousands of fans cheering on Kipchoge as he ran. From the start, Kipchoge set a blistering pace. He led a group of runners for most of the race, but as the finish line approached, he pulled away from the pack. His determination and sheer willpower were on full display as he pushed through the pain, defying every physical and mental limit.
Greatest of all runners
Kipchoge's dominance in the sport of long distance running is unparalleled. He has won multiple marathons, including the 2014 Chicago marathon, 4 London marathons (2015, 2016, 2018, 2019), 4 Berlin marathons (2015, 2017, 2018, 2022) and not to forget, he is also a 2-time Olympic marathon winner from Rio 2016 and Tokyo 2020. He is legitimately considered the greatest marathon runner of all time. If you watch Kipchoge – The Last Milestone documentary, you will understand why.
But even for Kipchoge, the 2022 Berlin win was a remarkable achievement and something special.
Breaking the marathon world record is a feat that few have accomplished, and Kipchoge did it with style and grace. His performance was a testament to the power of human potential and the relentless pursuit of excellence.
Kipchoge's triumph in Berlin 2022 will go down in history as one of the greatest moments in sports. It was a moment that captured the world's attention and reminded us of the limitless possibilities of the human spirit.
What comes next?
Many ask, what comes next? At the age of 38, with all his running experience and long runs he did, does he still have something to prove? Can he run faster? Is there a new challenge that would be worth keeping going at this level, putting on those running shoes, training, and working hard more than ever?
Well, we can only speculate, but he has never put himself on a starting line of races like the New York City Marathon or the Boston Marathon, the most famous marathon races in the world. In my opinion, it would be surprising if the best marathon runner ever would not push to try to win the Boston Marathon, the oldest marathon out there. Let's hope he does and in the meantime, let's move to another runner who has been writing history recently.
Letesenbet Gidey: The Inspiring Story of a Running Champion
Letesenbet Gidey is for sure a name to remember. A name that is fast becoming synonymous with excellence in the world of running. She has been a huge running inspiration for most runners. Originally a cross-country runner, this 24-year-old Ethiopian woman, is the current holder of world track records on 5000m and 10,000m distances and a world record in road running at 15k and a half marathon distance.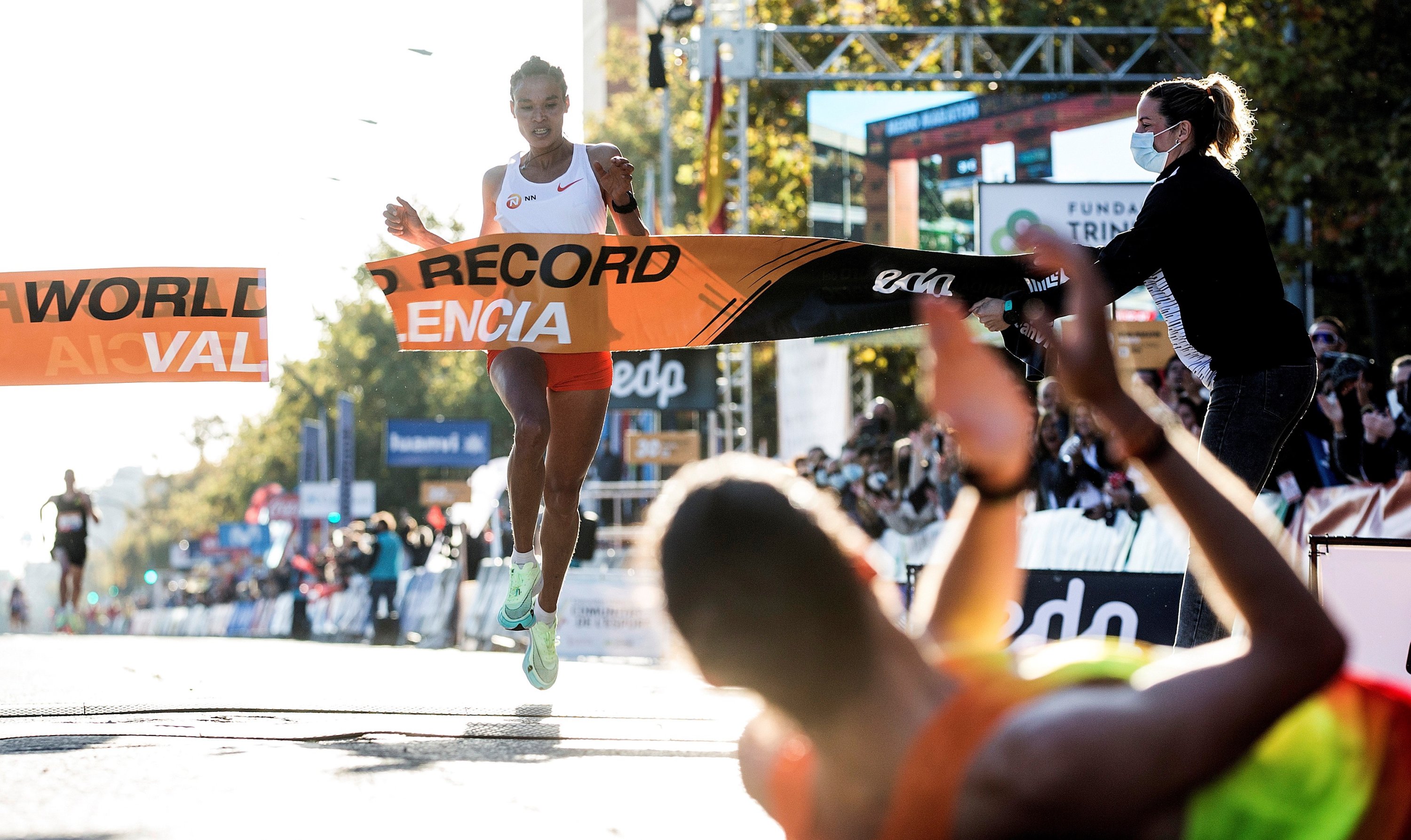 A half marathon to remember
Competing on the track almost all her life, she became famous and respected for beating the world records for 5 000m and 10 000m in 2020 and 2021, beating some of her biggest rivals Sifan Hassan and Helen Obiri. But appearing on her first half marathon distance in 2021 in Valencia, Spain, and beating the world record by unbelievable 70 seconds was a pure stunner. We already covered that in The 5 Most Inspiring Running Stories of 2021, definitely worth seeing.
2022 Eugene, Oregon World Championship
Conquering almost all world records, it was no surprise that she was the main candidate for gold at the World Athletics championship in Eugene, Oregon in 2022. Having lost multiple times in direct confrontations with Hassan or Obiri in the past, she did not need any extra running motivation.
And it was a hell of a race. Some say, the best race of the year. You couldn't write a better story about running than Gidey did. Watch the race in the following video, it starts at 15:09.
First marathon
As it would be not enough, Gidey decided to take part in her first marathon in 2022, nowhere else than at her favorite place to run – Valencia, Spain. Finishing with breathtaking 2:16:49 (5th best time of the year) we can only say – WHAT A DEBUT.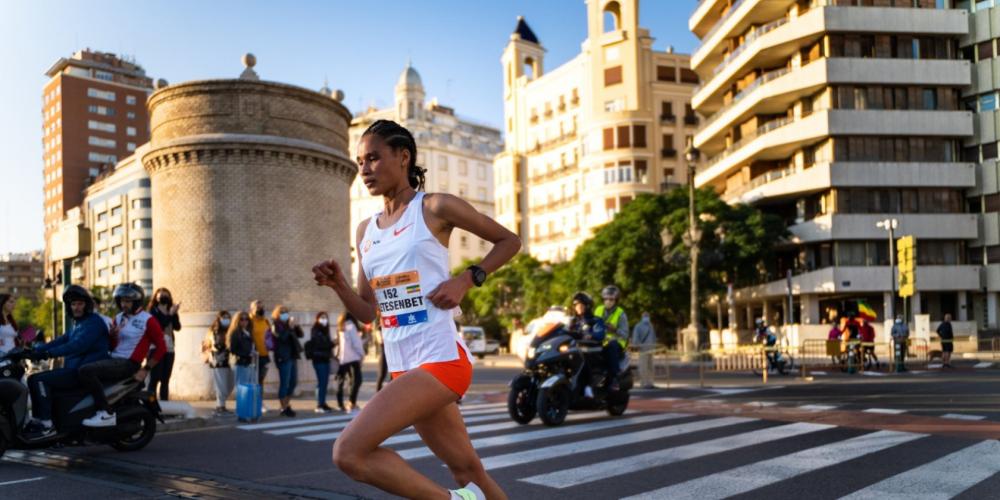 Currently probably the best runner out there, we can still expect much more to come from Gidey. It will be interesting to follow her running goals for 2023. She will probably aim to run more marathons and beat the current world record of 2:14:04 held by the Kenyan Brigid Kosgei. Seems like only the sky is the limit!
Sydney McLaughlin Dominates with 400m Hurdles World Record in Eugene, Oregon 2022: An Epic Performance
Sydney McLaughlin is on fire! The American track and field star has done it again, breaking the 400m hurdles world record in Eugene, Oregon in 2022, just one year after claiming gold in both the 400m hurdles and 4x400m relay events at the Tokyo 2020 Olympics. Her record-breaking performance was nothing short of phenomenal, leaving her competitors in awe and securing her place in history.
The 400m hurdles is one of the most challenging events in track and field, requiring athletes to possess a unique combination of speed, strength, and agility. McLaughlin's performance in Eugene was a true testament to her remarkable talents proving she is once in a generation athlete.
On the race day
The 23-year-old McLaughlin took to the track with unwavering confidence, attacking each hurdle with precision and powering through the final stretch with remarkable ease. Her time of 50.68 seconds shattered the previous record, set by her biggest rival and fellow countrywoman, Dalilah Muhammad, at the 2019 World Championships in Doha.
As spectators, we were not only excited but also very lucky to witness such an incredible athlete at the peak of her powers. McLaughlin's determination and drive are an inspiration to us all, reminding us that anything is possible with hard work, dedication, and unwavering belief in oneself. Her performance in Eugene will undoubtedly go down in history as one of the greatest moments in track and field.
McLaughlin's golden double at the Tokyo 2020 Olympics and her record-breaking performance in Eugene 2022 are testaments to her status as one of the greatest athletes of the generation. We can't wait to see what she does next!
And we will be sure to keep our eyes open for her in the 2023 World Championships in Budapest, where we expect great things from this remarkable athlete.